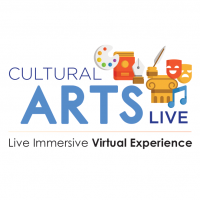 Cultural Arts LIVE
Live Immersive Virtual Experience. This exciting conference is open to arts and humanities educators and their classes.
Online, NC
December 15-16, 2020 (9 AM to 5 PM each day)
About the Conference
Join us as we present Cultural Arts LIVE: Live Immersive Virtual Experience. This exciting conference is open to arts and humanities educators and their classes. In addition to learning best practices in remote education, you can visit North Carolina's museum and historic sites, engage with visual and performing artists, and celebrate our state's rich history and diverse arts and artists. Cultural Arts LIVE will take place from 9 AM to 5 PM each day. If you've already registered, you can log in here.
Session Sneak Peek - Live Immersive Virtual Experiences
Sessions for this incredible two-day experience for you and your students will include (with more to come):
Artist Rosalia Torres-Weiner will create a mural designed by students during the two days of the conference (pre-conference activity)
Poet Laureate Jaki Shelton Green will lead writing workshops for students
Virtual field trips to 9 NC Historic Sites (aligned with 4th & 8th grade NC History curriculum) with live discussions
Cultural Arts LIVE State Choir (pre-conference activity) after registration chorus teachers can download "I Will be Brave", a new composition from NC composer Sally Albrecht and give your students the opportunity to record their voices with other students across the state – we will present the recording after the conclusion of the conference
Chorus workshop with Sally Albrecht for Elementary/Middle School students
Chorus workshop with Sally Albrecht for Middle/High School Students
Black Box Dance Theatre (pre-conference activity) dance will be inspired by and created/presented there as well. Session will be at the NC Museum of Art and will also involve a tour of the museum.
Introduction to Soundtrap (pre-conference activity)
Workshops for school newspapers (pre-conference activity)
Stop Action Animation for Elementary and Middle School Students– Pierce Freelon
Bias in Resources – Evaluating resources and news stories for bias and misinformation
Carolina Ballet – Behind the scenes of the Nutcracker
NC Symphony - Alexander Technique Workshop for Middle and High School Teachers and Students
NC Symphony's One State One Score - students and teachers will learn about this virtual statewide performance of Beethoven's inspiring "Ode to Joy" from Symphony No. 9 and receive practice tips and tricks from musicians, and more
Dancing Dynamics with Avian Dinos – Movement educator Ronnie West will lead an engaging session on natural science concepts and deductive reasoning at the NC Museum of Natural Sciences. Appropriate for elementary/middle school students.
NC Symphony String Quartet Live Performance for Elementary Students
NC Symphony Live Performance for MS and HS with Musician Q and A
Television Journalism- supporting student-run stations and the future of television journalism\
Charlotte Ballet- "Last Stop on Market Street" interactive session of dance and reading for elementary school
ECU School of Theatre and Dance- "A Woman Called Truth", sections of the one act play on the life of Sojourner Truth with the director
History of African American Music from Spirituals to Hip Hop
Joe-Joe Grooves, LA commercial and hip-hop dancer/choreographer, originally from Halifax Co. NC; giving a virtual master class with a blend of hip-hop culture, commercial dance, and discussion going after your dreams with hard work; suitable for all levels/ages.
Yoga/Mindfulness workshop for students
Personal Finance – workshop on the new course (for educators)
Copyright issues during virtual learning (for educators)
Remote Resources and innovative best practices for Choirs with composer Andy Beck (for educators)
Arts Integration for all grade levels (for educators)

Pre-Conference Activities - Coming Soon
Some of our sessions, as noted above, will benefit from educators and students participting in a pre-conference activity. In order to make this as personal and immersive experience as possible - and something NC has never seen before - we want to shape the session's content with YOUR input. Stay tuned for more information on these acticivites to be posted right here on the Cultural Arts LIVE page. We want wait to hear from you and your students to make this an incredible learning experience.