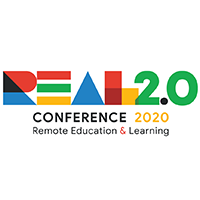 REAL Conference 2.0
REAL 2.0 - For Educators AND Parents! This October, over 1,100 attendees joined us from 89 of the 100 NC counties to elevate success in the new online learning environment.
Online, North Carolina
October 28, 2020
The REAL Conference 2.0 may be over, but all sessions are available here for you to view.
We want to reach any and all NC educators that wish to experience the REAL Conference 2.0.
Register here or Log in for access to all of the conference sessions.
About the Conference
NC Educators got REAL this summer, preparing for the new school year with resources and ideas for virtual learning in their classrooms. This October, educators and parents joined REAL 2.0 to further explore virtual learning tools, strategies and discussions for the current online education landscape.